Covid-19 Recovery Model: Recognise, Respond, Link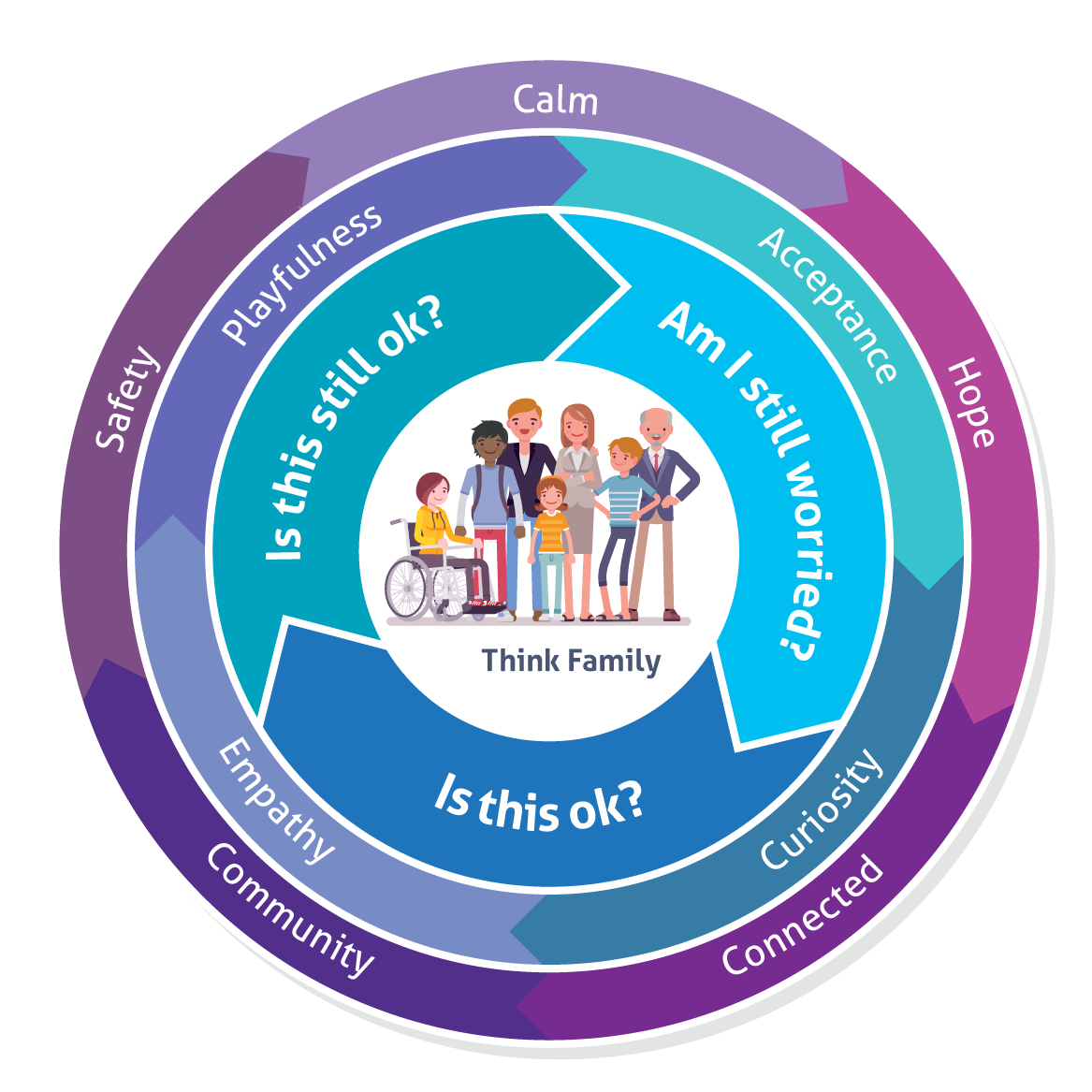 Model References
*Hobfoll S. E, Watson P, Bell C. C, Bryant R. A, Brymer M. J, Friedman M. J, et al. Five essential elements of immediate and mid-term mass trauma intervention: Empirical evidence. Psychiatry. 2007;70:283–315.
**Hughes, D.A. (2009) Attachment Focussed Parenting WW Norton: New York
Over the past months we have all experienced different emotions and changes to our routines. Most of the time, we can manage, as we move into recovery we might sometimes wonder, along with everyone else, is this ok?
To help us, a way of working has been developed to support children and adults which focuses on prevention of need and risk.  It is anchored in:
The five essential principles of responding to trauma: calm, hope, community, connected, safety.
PACE: playfulness, acceptance, curiosity, empathy (Dan Hughes **) This is a framework to help structure conversations.
These build on our partnership way of working through trauma informed practice and motivational interviewing to build resilience and celebrate success.  It is a way of working which draws on person-centered practice to ensure that children and adults are truly listened to and are kept at the heart of all decision-making.
The partnership's child protection and early help processes for referrals across the continuum of need for children and adult safeguarding have not changed. We have provided advice and guidance on accessing these services in the guide below.
• Continuum of need
• Children
• Adults
Changes in routines, stress and trauma can be seen through emotions, behaviours and physical health. Children and adults should receive the right support when they need it.  The guide will help you as you may sometimes think ….
The majority of children and adults will be ok. They have demonstrated resilience and you are able to celebrate their success. You can use this guide to reassure they are ok.
For some children and families the multi-agency concerns are increasing. You recognise the impact of stress and trauma and you have identified further need and vulnerabilities. Consider Team Around the Family (TAF).
For a few children and adults who have experienced previous childhood adversity and trauma, Covid-19 has been traumatic and/or harmful. Recovery and transition to a more usual way of life may need increased multi-agency support.
There are three steps to using the guide:
Recognise,
Respond,
Link
Some of the main areas for you to recognise are detailed below, please click to expand.
For free briefings and training to support you visit training for you
Development of this model has been led by the West Cheshire Children's Trust, supported by the Safeguarding Children Partnership and Local Safeguarding Adults Board.