New Ways of Working
COVID-19 – Trauma Informed Response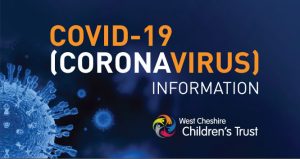 In the face of unprecedented times and world changing events surrounding us we may not have the answers to this crisis but as a partnership we have the foundations for us to make a strong response. Over the last 12 months we have been building a 'one workforce' approach to working with children and families that is trauma informed.
Our understanding of trauma as a partnership  has started to grow and develop and we are increasing our confidence and skills to become a trauma informed workforce. This foundation has supported us to be able to respond to COVID-19 as a strengthened and informed workforce. We can draw on our trauma lens and use our shared language to consider how we respond to trauma, avoid re-traumatisation  and build  resilience in our work with children and families  as well as each other.
We recognise that children have been impacted in different ways by COVID-19. For the children and their parents and carers who have experienced childhood trauma and adversity, this time of acute crisis and increased uncertainty can cause re-traumatisation. This could be heightened further for them through the loss of their safe  base with the closure of schools and community activities. Through using our trauma lens we are able  to sensitively  respond to their needs as we recognise their behaviours are a response for survival (fight, flight, freeze and flop) to make meaning in a time of acute crisis and uncertainty (Lakesidelinks, 2020). As a partnership, working together  in this way we are able to create pathways for stability, consistency and feeling safe to ensure that children and families receive the support that they need. We can do this through drawing on the principles of Trauma Informed Practice: trustworthiness, equity, choice, collaboration, empowerment, and safety (awcommunities, 2020).
To support us further  in our response to COVID-19 we have included some  additional resources on our website that consider the impact of trauma at this prevalent time. We will continue to update this  for you and we encourage you to share with us how you have  developed your  trauma approach and way of  working further during this critical time. Please contact: PiP.Admin@cheshirewestandchester.gov.uk
What is New Ways of Working?
New Ways of Working is funded through the Department for Education and is part of the Partners in Practice programme. The programme focuses on researching and understanding excellence in practice with children and families.
New Ways of Working is about developing a common and consistent approach to working with families.  It has been researched and driven forward by the Children's Trust and has a strong preventative approach at all levels across the continuum of need. It is based on shared language and shared understanding across all partners. Many of the families we work with can experience a broad range of difficulties that need support and interventions. We want to work with them in a new, integrated and targeted way.
Our vision, core values and principles
A 'One Children's Services' approach to meeting need across our partnership
A strong preventative approach at all levels of need
Preventing children and young people becoming vulnerable and needs escalating
Ensuring lasting solutions within families to improve resilience, emotional health and wellbeing
Improving overall outcomes for children and families
What does this mean for children and families?
Children and families tell us that they want us to:
Listen and get to know them
See them as an individual, not just a number, patient or case
Do not ever judge or assume
Be reliable, transparent, honest, supportive and trustworthy
Take a whole family approach – not one size fits all
Through working in a trauma informed way, using motivational interviewing, drawing on our shared language it would mean children and families are able to:
Tell their story once
Have a one page profile
Ensure the child/young person is the focus
Ensure that we respond in way that is motivational and innovative to meet their needs
Bring all services together to make decisions
Ensures clear communication and that we see the whole picture.