What is a learning conversation?
It is a framework for professionals to learn, develop, reflect and review how the multi-agency group are working with a child, young person or adult.  It is an opportunity to problem solve together and think differently to support progressing a plan from a trauma informed perspective.
It is not supervision. It focuses on professional continuous development, sharing learning and reflection.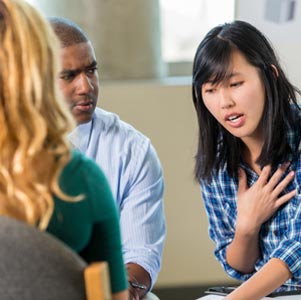 Learning conversation framework
There are four stages of a learning conversation
Why are we here (keep focus on child/young person)
Each professional to provide an overview of their assessment
What are the strengths, concerns, risks and vulnerabilities?
What is the child/young person saying?
What do the family say?
Appropriately challenge and draw on professional curiosity
How has a  trauma informed approach shaped our understanding?
Areas for development identified
What else has emerged as a consequence of this discussion?
Has this affected any change?
How can we address risk, barriers or concerns?
What are the challenges?
Has this affected any change?
How can we address risk, barriers or concerns?
What are the challenges?
How can we use Motivational Interviewing skills to progress our support and interventions?
What solutions can we identify?
Were the outcomes as expected?
What is the progress so far?
What are the tools telling us?
How can we progress this?
What are the barriers or challenges?
Have the risks / concerns changed?
Is the plan SMART? / Does the plan empower and enable change ?
What worked?  What do we need to do differently?
Were the tools and strategies used appropriately?
How can Motivational Interviewing and Trauma Informed Practice develop this plan?
What three learning points can we take forward?
Summary of assessment from the facilitator
Are we progressing towards meeting the child / young person's identified needs?
Are all the risks identified and actioned?
What difference has this 'Learning Conversation' made for the child / young person?
(Based on the work of Harri- Augstein & Thomas 1991)
Who will lead it?
A facilitator will lead the learning conversation.  The facilitator is independent from the professionals involved with the family.
What does the independent facilitator do?
Respond to the request for service and agree the framework
Create a safe space for professional multi-agency reflection  and analysis
Encourage open and honest professional conversations
Enable professional thinking and challenge appropriately
Enable professionals to embed trauma informed practice and motivational interviewing
Maintain neutrality in the process
Facilitate group discussion to agree how learning outcomes will be shared with the family
Be responsible for the recording and sending the summary notes and learning outcomes to the multi-agency group
Learning outcomes describe the knowledge and approach professionals want to take forward from the plan
When do they take place?
The framework should be requested when a child, family, adult has an open plan – TAF (Team Around the Family), CIN (Child in Need), CP (Child Protection), LAC (Looked after child), Care and Support Plans, Carer support plans, and the plan is not progressing
Examples of when a learning conversation can be considered:
When professionals are finding it difficult to build and maintain a relationship with the child, adult, family
When actions in the pan have struggled to make progress
When there is professional difference on approaches to the support
To reflect on key decisions and the impact they may have had
To support multi-agency reflection and the impact of secondary trauma
What are the key benefits of a learning conversation?
Linking root cause to the behaviours we see, to how we can support change through motivational interviewing and a trauma informed lens
Participate, reflect and problem solve through drawing on each other's professional expertise and experience to identify solutions including tools and resources
Safe learning environment to explore, ask questions and reflect
Shared understanding of the learning outcomes to inform the plan
To strengthen multi-agency working
What is my role and how do I prepare?
You will be asked to complete the request for service and provide the most recent plan of support.  (TAF, CIN, CP, Care and Support Plans, or Carer support plans) and include the voice of the child, adult and family
To participate, reflect and share your own experience and practice with the child, adult and family
Consider what has worked well, what needs to change to progress
Are the family involved?
Prior to a request being made for a learning conversation, families will be made aware and informed of the purpose
The child, adult and family voice will be gained
Following a learning conversation any changes to the plan that are suggested, will be shared with the child, adult and family by an agreed member of the multi-agency group
Making a request for service for a learning conversation
Agreement for a learning conversation must be reached as part of an existing multi agency process
Information for parents/carers  (If you are worried about your child's safety and need help please seek advice from professionals and call the Integrated Access and Referral Team 0300 123 7047  (option 1)  who will offer advice and guidance)
Here is some key information that can be shared with families about a learning conversation
Your views are very important, we want to listen to what you have to say
Your views will be shared as part of the learning conversation
What is it?
All the people working with you and your family want to make sure they are working in the best way to support you. A learning conversation will help us to understand how we can do this
It does not replace any other meetings that are in place for your child(ren) or yourself
How will this happen?
The person sharing this information with you will:
talk to you about a learning conversation
answer any questions you may have
ask you about your views
tell you when this is happening and what will happen next
Complaint procedure
Concerns or complaints about a learning conversation need to be raised first where appropriate with the independent facilitator. If this is unable to be resolved then concerns will be escalated to the innovation and practice development lead through: PiP.Admin@cheshirewestandchester.gov.uk